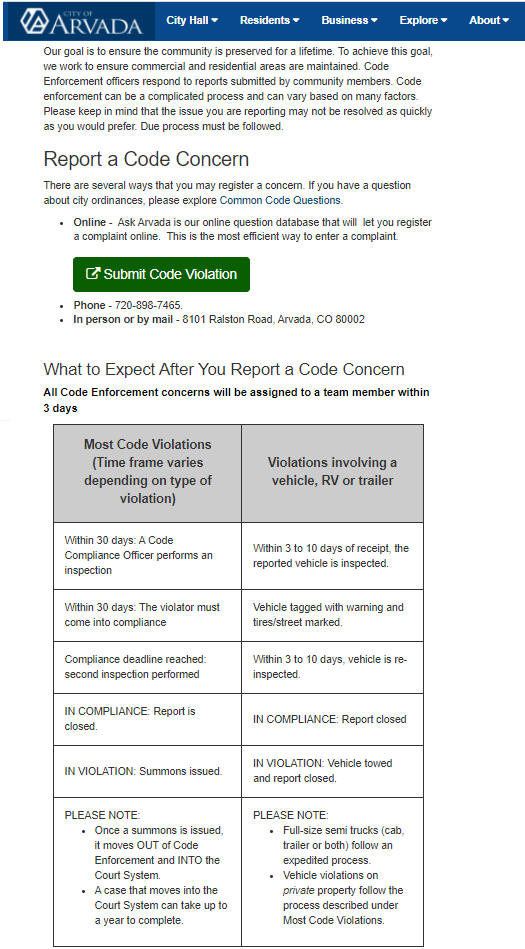 City of Arvada Code Enforcement
The City of Arvada's goal is to ensure the community is preserved for a lifetime. To achieve this goal, they work to ensure commercial and residential areas are maintained. Code Enforcement officers respond to reports submitted by community members. Code enforcement can be a complicated process and can vary based on many factors. Please keep in mind that the issue you are reporting may not be resolved as quickly as you would prefer. Due process must be followed.

Report a Code Concern
There are several ways that you may register a concern. If you have a question about city ordinances, please explore Common Code Questions.

Online - Ask Arvada is our online question database that will let you register a complaint online. This is the most efficient way to enter a complaint.

Phone - 720-898-7465.
In person or by mail - 8101 Ralston Road, Arvada, CO 80002
Common Code Enforcement Questions
Report a Code Violation
Common Code Questions
Below is a short description of the code in easy-to-read-language; it is not intended to be a substitute for the actual Adopted Code. To read the Adopted Code of the City of Arvada, please visit Municode (Tip: After launching Municode, try the search box at the top of the tool. Entering a term - such as "parking" - will help you explore every ordinance addressing a topic).

Vehicles
All vehicles and trailers on public or private property must be operable and currently registered or stored out of public sight like an enclosed garage. All vehicles and trailers must be parked on an approved surface (concrete, asphalt, or rock).

Recreational vehicles, including trailers, can only be parked on the street for 72 hours in any given 7 day period. Recreational vehicles cannot be used for overnight accommodations (on private or public property).

Oversized vehicles are not allowed on city streets. The City considers oversized vehicles to be anything longer than 25 feet in length or wider than 8 feet, a truck tractor or semi-trailer regardless of size (does not include RVs).

Signs
Signs cannot be posted on any city right-of-way. This includes street signs, utility poles, and medians. Additionally, Realty signs are limited solely to the property that is "For Sale" or "For Rent." Other sign restrictions may apply. Please contact Planning at 720-898-7435 for sign permits information.

Weeds
Weeds and non-decorative grasses over 12" high are prohibited. Noxious weeds are prohibited. It is the owner/occupant's responsibility to maintain the property out to the traveled portion of the roadway (including sidewalks, curbs and gutters).

Snow Removal
All ice, slush, and snow must be removed from sidewalks adjoining a property within 24 hours after the snow stops falling. It is the owner/occupant's responsibility to maintain the property out to the traveled portion of the roadway (including sidewalks, curbs and gutters).

Family, definition of
No more than five (5) unrelated people may live in a single household. This is enforced at the discretion of the Code Officer.

Rubbish/Trash
All property must be free from accumulation of rubbish or garbage. This includes, but is not limited to trash, tree branches, yard trimmings, metals, lumber, vehicle parts, appliances, etc. All trash must be removed from the property regularly so it won't become a nuisance. Trash containers must be stored behind the front face of the house, with the exception of your scheduled trash pickup day.

Fences
ALL new fences or replacement fences require a permit. Please contact Planning at 720-898-7435 regarding permit requirements.

Parking and Parking Surfaces
Off street parking spaces and driveways must be made of asphalt or concrete. Additional parking surfaces may include rock as long as the area is clearly delineated and is kept free of weeds and visible dirt.

Trees and Shrubs
Bushes/shrubbery growing over the sidewalks must be cut back to be even with the edge of the sidewalk. Tree branches hanging over the sidewalk must also be cut back to 10' above the sidewalk and 14' above the street. Plant growth cannot obstruct city signs or warning lights.


https://arvada.org/residents/city-neighborhoods/common-code-questions
This website is brought to you by Anthony Rael - your trustworthy & professional Real Estate Agent & REALTOR. Anthony hosts the "Annual 4th of July Parade" and is a long-time resident of Harvest Lane is happy to answer any questions you may have regarding the current real estate market. Be sure to ask about my exclusive homebuyer incentive for your kids as they "leave the nest" and venture into the world to become first-time homebuyers.
Interested in knowing how neighborhood prices are trending
in Harvest Lane & The Ridge during the past 12 months?
Call Anthony Rael at (303) 520-3179